5aa72478b631dbd85d30
McMaster University Medical Elective Stay Made Easy!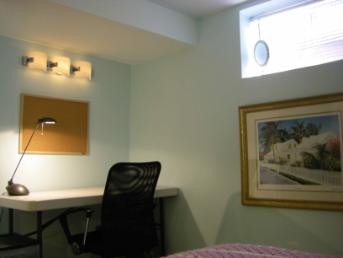 Booking for 2018 Spring, Summer &Fall

Check-In: Sunday anytime AFTER 12 Noon
Check-Out: Saturday anytime BEFORE Noon
Letter of Recommendation:
25 February 2014
Dear fellow medical students:
I stayed at 21 Wavell for two weeks during my elective rotation at McMaster. It was such a pleasant stay that I came back again on my CaRMS tour.
Firstly, it is a great location. It is just a short walk to St.Joseph Hospital and a 7 minute drive to the Hamilton General. It is literally a 30 second walk to the bus stop if you would like to use public transport. The Juravinski Hospital is also walking distance away.
Rooms are clean and cozy with comfortable beds. The house itself is very quiet too.
There are 2 bathrooms in the house that you share with someone else. They are always clean, and I never had any issue of sharing a bathroom at 21 Wavell.
Barbara is a very kind and lovely lady who makes sure you are comfortable while you are there. She picked me up at the airport and drove me to McMaster for registration. Also, she provides you with all the useful info that you need to get around Hamilton. You can find anything from bus schedule to the map of McMaster in her welcome package! Honestly, staying with Barb is like staying with your favorite aunt.
I recommend 21 Wavell to any medical student/ resident who is looking for a short stay in Hamilton. It will be safe, comfortable stay at a very reasonable price.
Do not hesitate to contact me if you had any questions.
Pejman
Pejman.Sadeghi@dal .ca
BREAKFASTS ARE INCLUDED
Breakfast foods included, you make your own. Tea/coffee anytime.
High speed wireless internet. Great Cell Service.
Laundry
COMING WITHOUT A CAR?
If possible, I will take you for Registration at McMaster, and then drop off at your elective hospital, on your first morning. I will also take you for groceries.
The house is centrally located, with a bus stop at the corner.
St. Joesph's Hospital is an 8-10 minute walk down the escarpment stairs located only several hundred feet from the house, or 4 minutes by bus!
The Juravinski Hospital and Cancer Centre is a 25 minute walk.
Hamilton General Hospital is easily accessed either by bus , or in 6.5 minutes by car!
SECURITY DOCUMENTATION IS NEEDED.
a) forward your McMaster Elective Acceptance letter,
b) along with scanned copy of your current hospital ID.
c) your cell phone number. Last 4 numbers used as your personal entry code.
You are 15 minutes by car from the McMaster University Campus.
PARKING: Driveway/Street Safe Neighbourhood.
More info is below. Scroll down
Contact us now! Click the blue link to the left.
5aa72478b631dbd85d30

Who Has Stayed at the Grey's Anatomy Dr's Residence?
To date I have had over 300 young doctor's stay with me for up to 4-5 weeks, but usually just for their 2 weeks McMaster Medical Elective Rotation.
Many Medical Students have come from the UK to do Medical Electives in the hope of "Matching" back home in Canada.
Very private quiet home, in safe residential neighbourhood. Door codes are the last 4 numbers of your cell phone number..
The home has 2 bathrooms, 2 microwaves, 2 refrigerators and a 50" TV, UNLIMITED high speed cable wireless internet. 24HR GOOD LIFE FITNESS is one 12-minute bus ride away.
For security reasons everyone staying must provide proof of current Hospital ID, and a copy of your McMaster Medical Elective Acceptance Letter. A deposit of $200.00 is required at the time of booking to guarantee you your spot, which is included in your stay price. Balance due upon arrival.
$280.00/week Staying an additional night? $50.00 ALL MED STUDENT rooms are booked starting on:
If you would like the smaller room for $260.00 per week, let me know in your email
Medical Students From:
SUNDAY 2 PM through NOON
Saturday
HOWEVER if you need_ to stay the SATURDAY NIGHT you must let me know at the time of your booking, and with no exception you must depart by 9 AM on Sunday morning, as to give time to make up the room for Sunday afternoon. YOU MUST BOOK THIS EXTRA NIGHT, at the time of booking ONLY IF THERE IS AVAILABILITY!!! EXTRA NITE is $50.00
MEDICAL RESIDENTS register on Tuesday morning at 0830, therefore your room is booked as of MONDAY 5 PM, with checkout by 6PM on the TUESDAY.
PLEASE NOTE: Google Maps appear to be giving wrong directions for this location, and showing it takes 1.5 hours to get to the hospitals!! This is totally wrong. 5 minutes by bus to St. Josephs Hospital, or 8-10 minutes to walk. If you have questions about the map that is showing up on the site, PLEASE contact me about it. It's upsetting, but its also very wrong.
ZONE 8 on the McMaster site is in relation to McMaster University! Only McMaster Hospital is in the west end of the city.
You do NOT need a car to stay at 21 Wavell if you are at the hospitals mentioned! If you have a car, then driving to McMaster takes 15 minutes and I have parking in the driveway as well as on street parking. The house is also a 5 minute bus ride from the Hamilton GO Station! Testimonials:
FACE BOOK: Barbara Eagleson Hamilton., and check out MUTUAL FRIENDS for others in your Med School who have stayed here! Friends you know, are the BEST reference.
"The nicest place I've stayed!! Barb's the best" Robin, 4th year St. John's Nfld
"I forgot my Stethoscope in the morning, and she brought it to me before rounds!" Sasha
"Once I met Barb, I knew Sasha would be safe with her! I slept peacefully at night knowing she was safe with Barb" Ira (Mother)
"Very clean, safe, quiet, and close to the hospital" -- Brian, 3rd year, Kingston
She "rescued" me the same night I called her, from a horrible situation!--2nd year student, and now a PGY 3 as well!
"Nice to get picked up, taken for groceries & registration. Pleasant stay with Barbara" -- Michael, 4th year, Halifax